Travel to Nicosia by taxi from Larnaca Airport
Travel to Nicosia by taxi from Larnaca Airport takes about 40 minutes journey to get you there. The distance is 50 Km and the transfer will cost to you 50 euro per taxi at day and 55 euro night time. By the way, the cheapest way to reach Nicosia during the day time is the bus. The most important to remember if you travel night time is that the bus services ends at 23:00. Cyprus Web-taxi provide quick transfers from Larnaca Airport to Nicosia in an address you wish with low fixed prices at all times.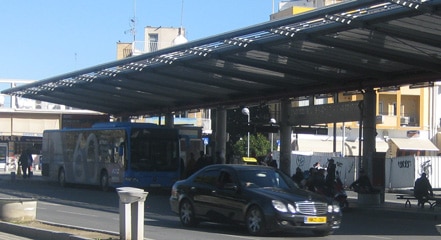 Taxi services Nicosia

Nicosia is the Capital of Cyprus, and the only city in the world which still remains divided. You can find easily normal taxis, Intercity Taxi Service, and buses that serve transportations. The easiest way to get a taxi is to call one of the taxi offices. The taxi will come to pick you up where you are. In the city center you can find taxi at any time. Taxi rates are set by law and taxi drivers are required to use the taxi meter.
How much is a taxi from Larnaca Airport to Nicosia?
Taxis from Larnaca Airport are charged by taximeter plus additional charges for luggage. Remember that after 20:30 a night shift charge is added to your transfer. So to avoid any extra charge from taxi drivers there is a manager there to control and he sets the price before your trip. For example a four person taxi from the Airport to Nicosia cost €50 one way during day time, and after 20:30 is €55. Taxi for six persons cost €70 daytime and €75 after 20:30. The same trip using Cyprusweb-taxi.com will cost €50 and €70 fixed prices day or night.