Transfer by taxi to Limassol from Larnaca Airport
Transfer by taxi to Limassol from Larnaca Airport will cost 55 euro during day time and 65 euro at night. The distance from Larnaca International Airport to centre of Limassol is 67 Km. Also be aware that Limassol stretches many kms beyond the centre of town in all directions. Our company provide transfer services to and from Larnaca Airport with low prices for 24 hours.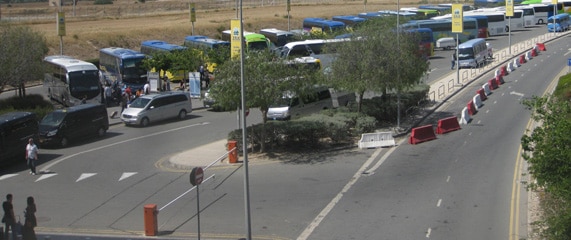 Cheap transfer from Larnaca Airport to Limassol

The cheapest transfer to Limassol from Larnaca Airport is by bus. When you came in the arrivals hall you will find the office that sells bus tickets. Remember that you can't use bus at night because this services ends at 23:30. So in this case the only choice you have is to hire a taxi from Airport to reach your destination.
Taxi and bus services in Limassol
Limassol is the second largest city with the bigest port of the island. Along the coastal road is the tourist area, and you will see many stops for buses and taxis. Also the travel express is available
How much is a taxi from Larnaca Airport to Limassol?
Taxis from Larnaca Airport are charged by taximeter plus additional charges for luggage. Remember that after 20:30 a night shift charge is added to your transfer. To avoid any extra charge from taxi drivers there is a manager there to control the taxis and he sets the price before your trip. For example a four person taxi from the Airport to Limassol is charged at €55 one way during day time, and after 20:30 it will cost €65. Taxi for six persons will cost €80 daytime and €90 after 20:30. The same trip using Cyprusweb-taxi.com from Larnaca Airport to the beginning of the tourist area will cost 55 euro and the center of Limassol 60 euro fixed day or night. Any more km over we will give you very good discount price.